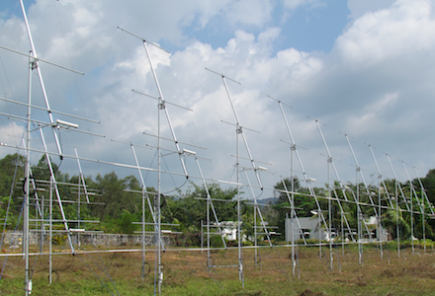 ATRAD's Steerable Ionospheric Analyser (SIA) has been designed specifically to observe ionospheric irregularities and their east-west drift in the E and F regions. The radar operates as a coherent Doppler back-scatter radar, with the radar beam directed perpendicularly to the geomagnetic field at E or F region heights. The beam elevation will vary according to the location where the observations will be made. The typical configuration for this system uses a 24kW solid-state transmitter and a 24 five-element Yagi antenna array (SIA 24/6). The SIA 24/6 is designed to support fixed elevation systems with a steered azimuthal beam. Contact ATRAD for alternative configurations where fixed beam or a variable elevation angle is required.
The Ionospheric Radar is available in a monostatic configuration and a bi-static configuration where independent transmitter and receiver systems are synchronised by GPS Frequency references at the transmit and receive sites. A Receive Only configuration is also available for applications where an existing radar transmitter source is to be used.
Key Features:
Observation of  ionospheric irregularities in the E & F regions
Monostatic, bistatic and receive only configurations
Azimuthal steering, fixed elevation angle
Remote GPS synchronisation
80—850 km sounding range
Remote monitoring and control
Online data analysis
Data acquisition and analysis
 
Exciter: Single Channel, 16-Bit
Pulse Repetition Frequency: 5 kHz (max)
Sounding Range: 90-850km; 110km at 80°
Range Resolution: 150m – 4,000m (software selectable)
Range Gates: Up to 6,000
Remote Control: Remote monitoring and control via internet, Ethernet or dialup modem
 
Receiver: 6-Channel, 16-bit
Frequency: 30-60 MHz (Fixed frequency)
Transmitter power: 20kW to 100kW
AC Mains Power: 220-240V AC or 110-120V AC 3-Phase
 
Array Configuration: Rectangular array of 24 to 256 antennas.
Elevation Range: 0-45° off-zenith
Antenna beam width: ≥ 5°
Steering Resolution: Typically 20-50 steps across the steering range.