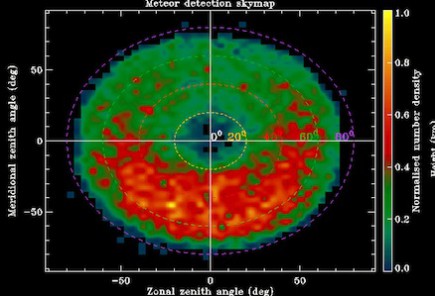 Enhanced Meteor Detection Radar – EMDR
The Enhanced Meteor Detection Radar System (EMDR) is designed specifically for wind profiling in the Mesosphere Lower Thermosphere (MLT) region (70-110 km) by tracking the drift of ionisation trails left by meteoroids as they fall through the atmosphere.
The system is designed to support both attended and unattended operation. It can be operated and monitored remotely and data can be automatically analysed and posted to an web site. It may be readily expanded to accommodate higher power operation and to include Boundary Layer Spaced Antenna operation.
The EMDR has many applications, which include:
Wind and temperature profiling
Meteor astronomy
Rocket launch support
Meteor tracking and recording
Atmospheric research
Data acquisition and analysis
 
Exciter: Single Channel, 16-Bit
Pulse Repetition Frequency: 5 kHz (max)
Sounding Range: 70-220km; 110 at 80°
Range Resolution: 100m – 4,000m (software selectable)
Range Gates: Up to 6,000
Remote Control: Remote monitoring and control via internet, Ethernet or dialup modem
 
Receiver: 5-Channel, 16-bit
Frequency: 30-60 MHz (Fixed frequency)
Transmitter power: 8kW, 20kW and 40kW
Combiner method: Transmitter module outputs combined and then split; provides improved phase matching and allows for graceful degradation.
AC Mains Power: 220-240V AC or 110-120V AC 3-Phase
 
Transmit Antenna: Single transmit antenna, linearly polarised crossed-dipoles
Receiver array configuration: 5-Antenna  all-sky Interferometer